Are you feeling bulb-like?
Spring is in the air, the ground begins to thaw, and change begins to take place.
This week of our goal challenge, that's what we'll be doing.
Focus on growth.
If you're rooted in and growing in good soil, progress will start to peek through.
Remember  Philippians 3:12 from our first week?
Paul continues on with this encouragement in verses 13-14.
Brothers, I do not consider that I have made it my own. But one thing I do: forgetting what lies behind and straining forward to what lies ahead,  I press on toward the goal for the prize of the upward call of God in Christ Jesus.
Press on towards your goal.
In 2 Chronicles 14, Asa becomes the third king of Judah and starts to make changes throughout the kingdom. (2 Chronicles 14:2 "Asa did what was good and right in the sight of the Lord")
Then the Cushite Army shows up. (2 Chronicles 14:8)
The odds were stacked against Asa…But God was on his side.
Go read it. I'll wait!
After the battle,  2 Chronicles says, "The Spirit of God came on Azariah" with a message for Asa.
Stick with God. He's got your back!
Stick with God. He's got your back!
Click To Tweet
2 Chronicles 15:7 (HCSB)
But as for you, be strong; don't be discouraged, for your work has a reward.
Don't let discouragement win.
Statistics say only about 60% of people stick with their goals after a few weeks. What makes some people more successful than others? (Other than having ME as a cheerleader?)
Written goals
Specific steps/strategy
Telling someone
Recognizing growth
Change takes time.
Before a tulip can bloom, the carbohydrates in the bulb have to turn to sugar. (Similar to how my body runs. Pure sugar.)
The bulb focuses it's energy towards the leaves and flower to push up through the soil, but until you see that little green leaf tip poking though, it can feel like winter will last forever.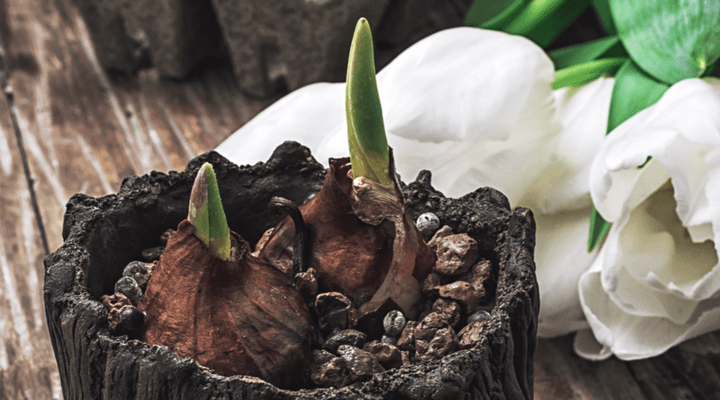 I understand the desire to give up.
Excitement wears off, obstacles hinder your efforts, or you're trying to white knuckle your way and you're over it.
Galatians 6:9 (ESV)
And let us not grow weary of doing good, for in due season we will reap, if we do not give up.
Keep your eyes forward.
Focus all your energy on growing up. (Wait… That sounds rude.)
You know what I mean, right?
Be the Bulb!
A bulb doesn't decide it's too hard.
If it's rooted in and growing in good soil, the bulb blooms.
It was made that way. Root, grow, bloom.
YOU were made to bloom.
Ephesians 2:10
For we are his workmanship, created in Christ Jesus for good works, which God prepared beforehand, that we should walk in them.

Don't give up.