Have you ever tried to grow out your bangs?
After months of struggling with the "too long BUT too short phase"- give up, have your hairdresser cut them, (or cut them yourself? SHHHH don't tell!) and immediately regret it!
If you just held out through the "I hate them and will fix it with the kitchen shears"  stage, it would have been worth the wait.
I am not a good waiter!
I was a hostess in a restaurant for a while.
Smile, greet you, take you to your table, and have someone else "wait" on you.
If I was your waiter/waitress/server I would want to "HELP" you choose.
Need a few more minutes?
How about I just order for you? You eat, l get paid, and we both get on with our day?
The quote  "Patience is a Virtue"  MAY be true, but I was in a DIFFERENT line when God was handing it out. (because I didn't want to WAIT!)
We wait for many things.
We wait for "Mr. Right", for babies to be born, adoption paperwork to finalize , deployments to end and test results to come in.
I remember being pregnant with THE KID.
I could hardly wait to meet him!
It took The Husband and I almost 5 years to get pregnant.
I had some dark times "waiting".
I was anxious to BE a mommy. I wanted to hold him, smooch his chubby cheeks, rock him to sleep, and brag at how "advanced" he was.
Right now, my family and I are waiting for our house to be built. We can "hardly wait" to move in!
Waiting is HARD.
Especially if you've been waiting for a long time.
I remember one deployment, THE KID and I made a paper chain to help us wait.
Every week we would tear off one link until there were none left!
There were weeks and weeks when it looked like links were being ADDED instead of taken away.
Waiting TESTS us.
I am not a good test taker.
My mind goes blank, I forget everything I knew and hurry through the test just to get it over with.
I can be that way with God, too.
I want a Yes or No…but "Wait"?
That's annoying!
At least if it's a "No" I can move on and focus my impatience on something else!
Here's the stinker, though. (I'm hesitant to even mention it because I don't like it!)
Remember when I talked about Proving Seed to be Good?
Without the waiting, there wouldn't be good seed to sow in people's life?
If I didn't wait  15 months for The Husband to return from deployment, how could I encourage another wife struggling through her wait?
If I didn't spend a small fortune on EPT tests, how could I share a glimpse of the pain another "waiting" momma is going through.
Often times, I forget that waiting is part of the process.
IF I am waiting well, then I am watching, listening, growing and crying out to The Lord. (or just crying)
Psalm 25:21

May integrity and uprightness preserve me, for I wait for you.
On the other hand, when I skip the waiting, things get a bit…messy!
Like painting your nails right before you have to be somewhere.
They smudge, polish gets on everything, and the smell STINKS up the car!
Don't stink it up by going ahead with your own way!
Don't stink up God's plan with your own way!
Click To Tweet
What do I want more?
His Best…or MY own way?
Whether God says Yes, No, or Wait…isn't that better than ANYTHING I can come up with to make something happen?
My impulsive, let's just choose something so I don't have to wait anymore, plow through and have my way kind of action!
He is so patient with me…
I imagine He just shakes His head and thinks, "That stubborn ox!"
I want to be a women that waits well, fully trusts that His timing is perfect, and rests her anxious heart in the shadow of his wings.
 Psalm 73:28

But for me it is good to be near God; I have made the Lord God my refuge, that I may tell of all your works.
To help with the waiting, focus on 2 things.
Gratitude and Thankfulness.
First and foremost:
God's Way is always better than my own!
He doesn't leave me to my own stubborn ox ways!
He gently (sometimes forcefully) pulls me back from my destruction!
He will never leave me nor forsake me. (Deuteronomy 31:6)
He is not done with me! (Philippians 1:6)
I waited 5 years to have child I thought would never come.
It was worth the wait!
Through multiple deployments I waited to lock eyes with The Husband.
There were MANY sleepless nights wondering/worrying if He was safe.
It was worth the wait!
As Christians, our greatest wait is on Christ's return.
He is worth the wait!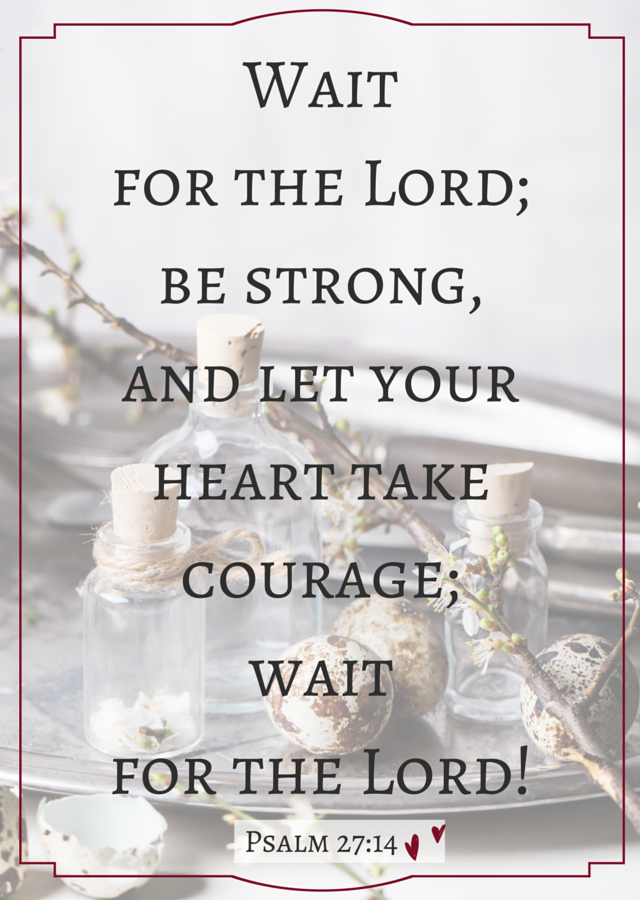 We all have times when we think God has forgotten us.
Did you ever sit home and wait for the boy to call?
Pick up the phone to make sure it was working? (Phones USED to have cords AND were connected to walls!!)
God is always connected!
He didn't lose your number, try to call but got a BUSY signal, or unable to get through because the lines were being worked on!
Are YOU waiting on Something?
You are NOT alone! Share your heart with someone you trust!
And whatever you do, DON'T cut your own bangs!! Trust me…it never ends well!